IVCC/CCSVI, vidéos et échos de murs de ce vendredi.
Barre google de traduction indispensable.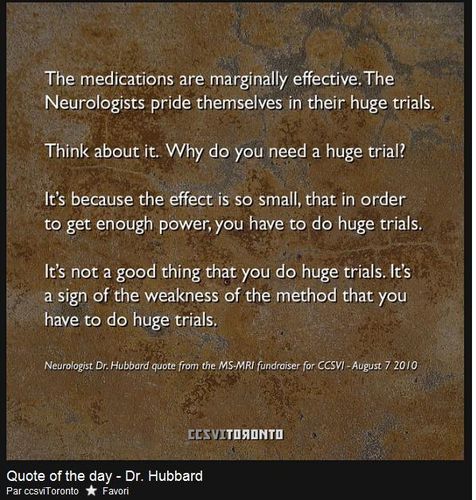 *
*MS Liberation Day - PART TWO - Halifax, NS
*Echos de murs:
*Kathleen Lynch May I post on your wall, please? We've been talking among ourselves for long enough. Let's use the power of our numbers and get the attention of someone with a larger audience. I know - Ellen! Let's get the attention of Ellen DeGeneres by tweeting her or sending her a link to my video "Get Up Stand Up." I know I look l...ike a dork, but I am willing to take one for the team.

*LiberationTreatment Ccsvi

Dr. Hubbard connects MS to CCSVI theory

CCSVI in MS Toronto This man is a hero... he's going to change the world. - WaYnE
Brenda Curtin Wow this is great. I wish all the neurologist in canada could see this
#
Diana Price I totally agree with you both of you - Wayne and Brenda. This is a great video - Thank you Dr. Hubbard!
Il y a 3 heures · J'aimeJe n'aime plus ·
#
Brenda Curtin Stick that in your pipe and smoke it Dr. Freedman
Il y a 3 heures · J'aimeJe n'aime plus ·
#
Arne Kaminsky Brilliant, brilliant interview - what a smart & likeable Human Being. Thank you Dr. Hubbard for making the world a little bit better!
Il y a environ une heure · J'aimeJe n'aime plus ·
#
Patricia Lindberg
Very, very refreshing. This is what makes Dr. Hubbard stand-out from the rest...his intelligence and fortitude, rather than siding with the pharmceutical parasites. Thank you Dr. Hubbard, and your colleagues, who are truely committed to h...elp the sick and suffering.
From a mother with a daughter with MS, looking forward to Thanksgiving dinner at my house. She has been liberated...so have I, thanks to people like you. Blessings.


*Maria Meszaros Dekleer
Heading off to Barrie funny how now I want good veins and no stenosis now:) not worried cuz I feel good :) taking a few extra days with hubby to celebrate 20th anniversary :)

*CCSVI Calgary

Jenna Machala I would like to thank Dr. HUBBARD for being a WONDERFUL HUMAN BEING!
Jenna Machala
It takes a lot of " courage " to swim against the currant of today's attitude of North American neurologists who almost in one voice state patients with MS have no right to access diagnostic testing and treatment of vascular system availabl...e to the rest of North Americans.I would also like to add that beside San Diego collecting "CCSVI" pertinent data, the very similar data is collected by Dr. Simka in Poland. I have gone there for my treatment and I already had 2 post treatment checkups; a month and 3 months after the treatment. All patients at EuroMedic are requested to come back at 3, 6, 12 months intervals; not all of us are able to afford the travel though(both physically and financially). It would have been so much more "humane" to let us have the procedure at home (in my case in Canada). It is hard to believe that 3 neurologists and few drug companies have so much power over my life and the quality of it as well. How is this possible?