IVCC/CCSVI, vidéos et échos de murs de ce vendredi.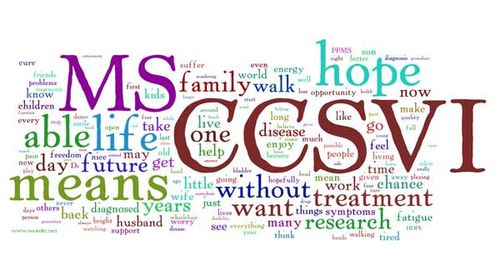 Barre google de traduction indispensable!
Témoignage de Mitch, un ami SEPien de Dawn Skinner. SEP peu méchante, sauf ces 3 dernières années, sa jambe droite traînait. Lui s'est fait opérer à Frankfurt en Allemagne. L'intervention a été quelque peu douloureuse, mais très peu longtemps, comme un mal de tête, quelque chose qui le brûlait. Payante aussi, comme en Pologne, 6000 dollars. Jambe réparée, esprit clair, il peut de nouveau se concentrer (mon rêve pour la lecture de pavés!), marche retrouvée, rapide, plus de fatigue! Il peut sauter, ce qu'il était incapable de faire depuis sa SEP. Il n'a pas encore tenté de courir (il s'était cassé la jambe dans le passé). Il écrit des chansons et joue de la guitare. Il rejoue bien, alors qu'il n'était plus capable de faire des accords simples! Grand hôpital avec des SEPiens venus de partout pour se faire opérer! A 55 ans, il dit qu'il n'est jamais trop tard pour se faire opérer!

Un appel à l'aide d'un SEPien canadien pour que beaucoup plus d'argent soit mis dans les études ccsvi rapidement dans son pays!
Barbara, montage avant et après sous-titré! Les images parlent d'elles-mêmes!

Que faire avec ses résultats de doppler? Conseils de Dawn Skinner!
*Echos de murs:
*Yvonne Andersen My Friend Gary Greer will be on the CTV news at 6 tonight!

Yvonne Andersen Okay, I'm officially tired. Staying up until 2:30 am WAS NOT a good idea at all. Going to take a nap and I would request the NO ONE call me for the next few hours. :-)

*CCSVI at UBC MS Clinic - Information and Support How sure are you that you have MS? Are you like Wendy and diagnosed with something else first before they told you it was MS? Wendy -- if you're listening, you still need a venogram to rule out stenoses in your azygous vein. Only a venpgram can diagnose blockages in that area!

Swanson GusWendy Today I
listened to some facts from our lawyer about CCSVI and angioplasty
treatment which is not available for people who also have MS. This
charter challenge will affect all Canadians not just those in Ontario.
We have a right to treatment and the doctors who want to treat us also
...have a right which has been taken away
from them illegally. Doctors please come on board and testify for us. I
am supporting this cause and I hope you will too. If you know a doctor
please send this along. Donate at the website - any amount will help.
Find out more information there too. Thanks & Blessings Wend

David Ius I listened to the whole conversation,and my feelings are, any judge who listens to these very compelling arguments could not in clear conscience stop angioplasty for M.S. patients from becoming a reality,unless she or he, was bought out by big pharma.

Viola Doncaster I wonder how many of the people who are having the CCSVI are continuing to take their MS meds following the surgery. This would be interesting to know.

Swanson GusWendy Dr. Zamboni recommends you stay on your meds if they are working for you...your immune system is still compromised...MRI's followups are essential...I am hoping for two years from treatment to be lesion free, then go off meds!

*CCSVI at UBC MS Clinic - Information and Support And here's Maclean's. I don't know how the MS Society expects to get government funding when it just finished discrediting the Zamboni theory and calling the treatment dangerous with its joint announcement with the CIHR:
MS Society of Canada earmarks $1 million for CCSVI clinical trials
www2.macleans.ca
Awaits results from research studies currently underway

CCSVI at UBC MS Clinic - Information and Support Good media coverage of the $1 million promise. Is this a tactic to quiet us while the 7 studies do their thing for 2 years? Here's CTV:
CTV Toronto - MS Society sets aside $1M for future CCSVI studies - CTV News
toronto.ctv.ca

Lorin Powell It is too late for the MSS, they can not win my trust with a few empty promises.
MSS you are done!
IR doctors your work with CCSVI sufferers is just beginning.

Brenda Raven Thing is, it was explained well in the AFA teleconference today, it's as I said, this entire 'study' thing is a moot point. We have the statistical support to say this is beyond studies and wasting our time. At a meeting on Tues. it was suggested we pay our NMSS dues to have voting rights, but I honestly feel the NMSS should dry up and blow away, there is Direct-MS, and CCSVI need to become a national organization. I worked to hard to lobby against people donating to them so I won't give them another dime

Swanson GusWendy
CCSVI in MS Toronto Today I
listened to some facts from our lawyer about CCSVI and angioplasty
treatment which is not available for people who also have MS. This
charter challenge will affect all Canadians not just those in Ontario.
We have a right to treatment and the doctors who want to treat us also
...have a right which has been taken away

from them illegally. Doctors please come on board and testify for us. I
am supporting this cause and I hope you will too. If you know a doctor
please send this along. Donate at the website - any amount will help.
Find out more information there too. Thanks & Blessings Wendy

*Ccsvi Transverse Myelitis

Patricia McEachern Wiggins My younger sister was diagnosed with TM and similiar "MS" to mine a year after I was diagnosed.(1980) My older sister (an RN) for 45 years has vein problems and has trouble walking. We all suffer terrible pain. I am sure we all have CCSVI . There are hereditary vein problems in our family. Our Mom had both neck veins ...cleared and an aneurysm fixed, same with her siser and her brother died with brain aneurysm. Also, have 2 first cousins with "MS". Hope my cuz, Judy from Saskatchewan has had her liberation. I am just waiting (hope I am not too old as I am 62 yr old grand mother - diagnosed at over 30 years old. Just heard from a guy from BC with same long term "MS?CCSVI" and he was liberated and is doing better after afew months. Hope is out there for us all. Lets all stand Tall, Strong and Free!!. Pat Wiggins

Ccsvi Transverse Myelitis As a precaution, The Johns Hopkins Hospital has temporarily restricted access to main hospital buildings following a shooting incident in the hospital. Baltimore police and Johns Hopkins security officers have asked employees, visitors, patients and caregivers to stay in rooms or offices until further notice.

Ccsvi Transverse Myelitis latest update: The situation in Nelson 8 is controlled. The shooter is contained in the hospital but is not in custody at this time. Police are reporting that they are in control of the situation. Business operations for the rest of The Johns Hopkins Hospital should continue normally. That was weird and scary!!!

Ccsvi Transverse Myelitis Wow, this looks like taken from Grey's anatomy show. A doctor was shot but it seems is doing okay. Here the press release http://www.hopkinsmedicine.org/news/media/releases/update_on_shooting_at_the_johns_hopkins_hospital
Ccsvi Transverse Myelitis Oh dear, this was quite something.The gunman shot a doctor inside Johns Hopkins Hospital, then shot a relative before taking his own life. My prayers to all those involved. http://wjz.com/local/doctor.shot.hospital.2.1916825.html

Ccsvi Transverse Myelitis Dr David Cohen was the dr shot. He is doing fine. It seems he is specialised in spine surgery. http://abcnews.go.com/US/shooting-inside-baltimores-johns-hopkins-hospital/story?id=11654462
Ccsvi Transverse Myelitis Great day today: The USA Senate had a hearing on embryonic stem cell research. Lovely Cody Unser, diagnosed with Transverse Myelitis, shared her testimony. You can watch a video of the hearing in the link provided. I like what the senator had to say. Science and not Politics has to guide these decisions. Rox
Senate Appropriations Cmte. Hearing on Stem Cell Research
www.cspan.org

*Vivianne White
Enfin!!! J'ai ma voiture, je redeviens autonome!!!

*Deb Turcotte via Patricia McDowell Kimball : CCSVI is a "stand alone" medical condition that has been scientifically validated and published in medical journals.(it may have a different name, when you research) Veins move blood. Blocked veins impede blood flow. MS is said in the dictionary to be a neurological disorder that affects the immune system. CCSVI is a v...enous condition. Having MS should not prevent one from seeking testing and treatment for CCSVI.

Deb Turcotte Alzheimer's, Parkinson's and Multiple Sclerosis.... CCSVI LinkNeurodegenerative diseases NEED to unite! As a group, we are large and daunting!

*Ginger MacQueen
Via CCSVI at UBC MS Clinic - Information and Support
I have a feeling the media are not going to let the federal minister
pin the blame on the media for getting her message wrong. Don't you
think this is easily solved with a before and after video (before she
got into more hot water for her "no funding" announcement and after she
started thinking about her future in politics)?
Ginger MacQueen via Jason Kaye : SO basically, they are saying that once a study has been approved, which could take years, they will commit 1 million. Is this the money that MS walkers donated and ear marked for CCSVCI only???

***Christopher Alkenbrack
LETTER TO YVES SAVOIE - PRESS RELEASE - $ 1 MILLION IN FUNDING
SEPTEMBER 16, 2010 OPEN LETTER TO MR. YVES SAVOIE President and CEO of the MS Society of Canada Ontario Division Mr. Savoie, I am writing to request public clarification on the Press Release that was recently published by the MS Society of Canada committing $ 1... million in funding to research into CCSVI trials. In paragraph #1 of the release it states, "The funding will be set aside so that an immediate infusion of funding will be available when such a trial is developed and approved." We know from the 2009 charity return form filed by the Multiple Sclerosis Scientific Research Foundation, that there are over $ 31 million available in assets, presumably for research purposes. Will the funds come from this amount ? In a conversation that I had in February of 2010 with Dr. Karen Lee, she graciously explained to me the funding and decision process for all research projects and that funding decisions are ratified by the Medical Advisory Committee. Knowing that the Medical Advisory Committee must approve all trials, will this committee have any input as to where the funds are allotted for this research ? Though the board of directors unanimously approved these funds being set aside, my concern is that the decision process could be blocked by some of the people on the Medical Advisory Committee who have clearly been outspoken against CCSVI research in the media. I`ll not take time to name the people or the comments that were made, as I am sure you know exactly to whom I refer. I just want to raise my concerns that the decision-making process will not involve anyone who does not have the best interest of MS patients at the centre of their decisions. Secondly, you state that "We want to hit the ground running when a therapeutic trial is warranted and approved." Once again, will we have to wait for the outcomes of the 2 year research projects before these projects are "warranted" and "approved". Who will be making these important decisions as to the validity of these projects ? In the next paragraph, you state that the MS Society of Canada hopes to work with the provinces and the federal government to secure all of the funding for a therapeutic clinical trial. How will the committees be formed to make these decisions ? Who will be on these committees ? Will there be representatives from the CCSVI community involved in these committees, or will they be like the committee put together to make the recommendations to the CIHR not to fund pan-Canadian trials at this time ? Will there be minutes available to the public of these meetings, or will they be secretive like the Advisory Committee formed to provide counsel to the Canadian Health Minister ? I too applaud the spirit of cooperation that has brought CCSVI to the forefront of the country`s health agenda, as you state. However, I feel that it is the continued pressure of media and social networking groups that have been instrumental in bringing these issues into the limelight. If you are truly preparing to play a central role in the funding, I think that the public has a right to know the names of the committee members and the qualifications of the researchers that will be involved in this process. Once again you discuss the $2.4 million that has already been given to fund IMAGING research. I would like to know if the lead researchers involved in these imaging studies have been properly trained. For example, we have studies like those done by the German and Swedish researchers who concluded that CCSVI does not exist. Yet, I find it interesting, that an independent researcher, not involved in MS research, yet an imaging specialst, Dr. Marke Haacke, stated in a symposium on CCSVI research on July 26, 2010, that these studies actually prove the existence of CCSVI. It is my understanding that Dr. Zamboni is preparing a rebuttal to these papers as well. Here is the link to his video testimonial http://www.youtube.com/watch?v=bUku2TmZahI (FROM 21:28 ON) of that in which he states: "The table that shows what happens to MS patients when they go from lying down to sitting up actually validates the CCSVI theory – even though they wrote that it didn`t validate it. They didn`t understand what they were looking at hemodynamically." He (Dr. Haacke) therefore calls into question the neurologists' competency to perform these tests, and questions their ability to interpret the results. Given the importance of CCSVI research and its immediate impact on the quality of life for MS patients, it is essential that competent researchers be used to validate all stages of this process. On the topic of the Expert Scientific Working Group, I believe that we have the right to know who these people are. Scientists who have been in conflict of interest in the funding of the MS Society of Canada should not participate in this group, nor should those who have been publically outspoken on the issues. I know that I sound like a broken record sometimes, but each step in this process risks delaying unnecessarily the life-changing potential of "robust" scientific findings that will potentially benefit those living with MS. Mr. Savoie, I trust that your commitment to MS patients remains the theme of your campaign "END MS". As well, I trust that the MS Society, as representatives for ALL people with MS, will immediately distance itself from any researchers that have openly spoken against CCSVI and immediately remove them from any of the Medical Advisory or Grant Committees. All bias must be removed to restore the faith of MSers in your Association. Sincerely,
ms-ccsvi-uk
Michele: Just heard from Essential Health Clinic, that Dr Sandy MacDonald has accepted our invitation and will be attending the conference as a member of the panel. If you are at the conference you will have an opportunity to meet and talk to the high profile figures who will be attending. EHC have sold quite a few tickets already, so work fast if you want that opportunity and the chance to ask relevant questions.