IVCC/CCSVI, vidéos et échos de murs de ce samedi.
Barre google de traductiion indispensable!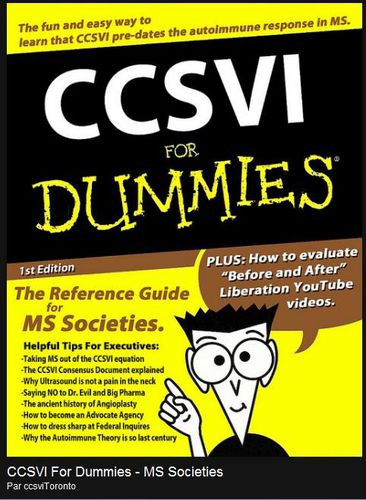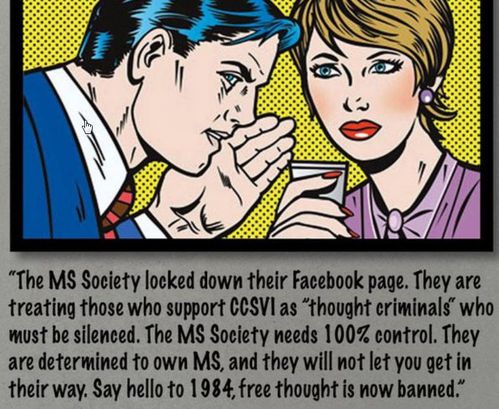 Dawn Skinner, à deux heures de la procédire, positivement excitée!
*Echos de murs:
*Paul Dye
All praise to God. I've been scheduled for Oct. 13th to get a new left IJV. The surgery has only a 1-2% risk. I'm not too very excited yet. Once it is over I'll be excited, it is just the way I am. The doctor is extremely educated about this whole concept of treating CCSVI. He's really done his research.

*Steve Garvie Double blinded studies,trails, tests ect.Are we just attempting to appease the old guard?Do the drug compaies and neurologists control everything that completly?3000 plus with this procedure done , the results are apparent.Why are people being allowed to die and get
sicker?When does basic intelligence and a little huma...nity kick in?
Steve Garvie The meeting to be held Monday toted a work shop by the ms society is once again a secretive game.All pertisipants must sign a confidenceality agreement before going,
Just another shitty game by an equilly shiity organization.You want silence....maybe you can't handle the truth.You only prove yourselves the cowards and l...iers we have grown to hate and despise.
Tessa Rushton they need a whole lot of transparency in their organization NOW!
Sebastien 義真 Cyr
Confidentiality? What has to be so confidential about decisions made to affect the future of M.S patients? This is supposed to be a charity organization made to help patients so they have no reasons to play games like these and should serve... as enough proof of their intentions. Yet NOBODY in our government will step in and either stop this OR stop listening to anything they say.

To begin with WHY our government has to listen to them before making decision they are just a damn charity! Ha forgot why they listen to them because they are the mouths of drug companies and neurologists.
Sebastien 義真 Cyr This is wrong and we should never forget the WE OWN THEM. WE ARE THE PATIENTS. SO there is NO reasons for us to sit down and accept ANY of their manipulations. They have to answer to US when WE ask.
Kevane Bona Stronge the only reason i can think of is that the drug companies are threatening their lives if they let this happen???? could that be it??? no...silly me - they don't want to stop the money from coming into this horrible NOT FOR PROFIT charity...not for profit my ass!!!
Shelley Black
I was there and I will share. It is true that a confidentiality agreement was required in order to participate but that only prevents me from saying exactly who said what. I had to agree that "reports to the public about working group meeti...ngs will reflect the group's discussion and the varying points of view, but that individual members will not be named". I would not involve myself with anything secretive or underhanded against the very people I most align myself with. I am partaking in this to try and help affect change. I'm not one of them, I'm one of "us".I want treatment in Canada as soon as possible. I plan on discussing the CCSVI Working Group meeting at the next MS Liberation Group meeting in Ottawa which will likely be held towards the end of the week. I am recovering from a very bad head cold and I've been off Facebook since returning from Toronto. Anyone interested in learning more is free to email me at shelley@zingsphere.com or come to the next meeting if you are local to Ottawa.
Kevane Bona Stronge hope you get over that head cold shelley...booooooooooooo to head colds LOL and i know you are NOT one of them hahaha you are a good person advocating for us ; )
27 septembre, à 02:23 · J'aimeJe n'aime plus · 2 personnes
Steve Garvie I do not tar you with the same brush Shelley.But if this is to be a meeting of any substace is there a reason that there will be no documentation of it?If there was people could stand behind thier own words.Are they affraid of thier own convictions?I always thought you needed the corage of your convictions in this life.Be that as it may ball the best in your endevours.
Mary Addison Thank you for your explanation and for attending, Shelley. Get better soon.
Shelley Black
Please know I am not defending them and I appreciate those of you who understand that I am one of the good guys! I'm one of you! That's why I agreed to go. I left my little boy for two days, took two days off work, and missed the rally on t...he Hill that I had a small hand in helping to organize. This wasn't easy for me - trust me! They will be posting a web communique online in the coming weeks. I have expressed to them the need for as much transparency as possible. I told them that faith has been lost and trust is in the doghouse with many right now. I was in excellent company with the other advocates - they are wonderful people.
Sebastien 義真 Cyr We do understand and support you Shelley but they should still pay for their inaction and hypocrite behavior towards us the patients.
Shelley Black Thank you all for your support. I understand and respect your feelings. I don't blame anyone for being suspicious or skeptical. I share these feelings with you.We have every right to be angry, annoyed, and outraged. I have never wanted justice more in my life than I have this year and I sometimes can't believe all that we are up against. Change is coming, one way or another, it will happen. I'm not giving up! :)


Jim Mossman Thanks Shelly, for all you are doing for us! Hope you are feeling better.
Patrick Farrell Shelly rocks!