IVCC/CCSVI, vidéos et échos de murs de ce mardi.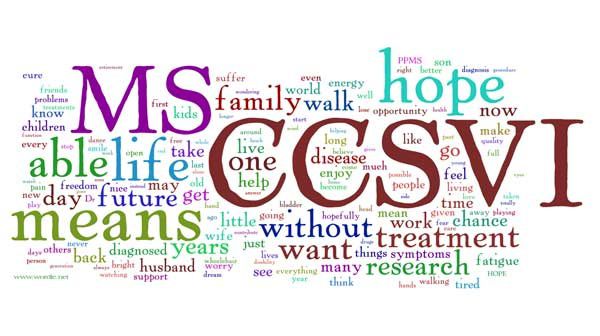 Barre google de traduction indispensable.
Je commencerai par des vidéos de sensibilisation à la SEP, puis une vidéo espoir handicap très forte!
Petit rappel de la découverte de Zamboni en émission tv.
Handicap et espoir...
Dr Haacke explique l'IRM en CCSVI et pourquoi les résultats varient d'un individu à l'autre:
Une séance de kiné au Costa Rica après la procédure (6ème séance)
Emission canadienne: les SEPiens protestent contre la décision d'abandon des études ccsvi au Canada (il existe une page démission de la ministre de la santé canadienne, je l'ai déjà citée), témoignages d'opérés. Brad Wall, premier du Saskatchewan s'est engagé à réaliser quand même les recherches, j'ai déjà partagé la vidéo ou le lien.
*Judy Capstick-Keagan For anyone interested in some info about the angioplasty procedure & CCSVI doctors at Tokuda Hospital in Sofia Bulgaria, which is where Cecil will be getting his Liberation Treatment...read this post.
CCSVI Center Team at Tokuda Hospital in Sofia, Bulgaria
...
Par :Judy Capstick-Keagan
Judy Capstick-Keagan It is 19 days, 9 hours, 18 minutes and 34 seconds until Sunday, September 26, 2010 at 3:45:00 AM (Sofia time)...which is when we arrive in Sofia, Bulgaria.
*Tessa Rushton Let's get it done!
Mark Lane is requesting that all those Canadians who have had angio/venoplasty as treatment for CCSVI/MS to send a 1 pg testimony of your experiences pre/post op to mark@marklane.ca. Please include your name and contact information. This anecdotal evidence will be presented first hand to the Health Mi...nisters at their upcoming meetings on the 13 Sept in Newfoundland and Labrador. C'mon Canada!
Tessa Rushton Can you say conflict of interest?
http://www.cihr-irsc.gc.ca/e/6953.html
http://www.mult-sclerosis.org/mstreatments.html
feed://www.facebook.com/feeds/notes.php?id=110796282297&viewer=1112983669&key=7e55f19a8d&format=rss20
*Tessa Rushton They are TWO diseases!
CCSVI is a VASCULAR DISEASE
MS is a NEUROLOGICAL DISEASE
TREAT THEM BOTH & make connections, if any, in conjunction!
Diane Maye Stewart sounds like a no brainer to me...wonder why Docs/MSS can't figure that one out!! $$ ooops keep trying to tie them together, just a thought...how many of our MS symptoms are really CCSVI symptoms and at this point I really don't care, just want whats wrong fixed!!
Tessa Rushton exactly Diane! MS is a disease of "symptoms" Now there is a REAL disease which takes care of many of those symptoms... now we just have to deal with the brain damage from MS ... & get rid of the lesions!
Stig Eltvik Hi Tessa, I reckon that I can take this statement to show my neurologist. I want a meeting with her on September 20 and will come with this pronunciation to her. I hope she is sensitive about this.
Tessa Rushton good luck Stig! My neurologist is actually very good about the whole thing - he knows I still have MS damage & he's pleased many of the symptoms thought to be MS have gone away
Lily Kleiman They're all the same thing anyway. Sclerosis, also found in ALS, Alzheimer's, etc, is a symptom, not an illness. All these years the symptom has been studied and drugs offered. It's like putting bandaids on a wound that needs stitches. MS was never an illness to begin with.
*Tessa Rushton Great point Anna:
Anna Delorme Until a few months ago, I thought our health system ran pretty smoothly. Ha! We need to change the system. We cannot have let a select few, who know nothing about CCSVI and have a clear conflict of interest, be allowed to influence the larger agencies and government about what is best for ...us. It's MY body.
Tessa Rushton via Shirley Renshaw : go figure... political as much as scientific!
Editorial in today's Globe and Mail – excellent points on MS and CCSVI | Carolyn Bennett
carolynbennett.liberal.ca
Canada should fund medical trials of a revolutionary treatment for multiple sclerosis, and not act as if the rejection of those trials by an expert panel must be obeyed. This is a political question, not a purely scientific one.
*Denise Manley covered in white paint! But the fence is done! Now to clean me up and get to bed, I have a couple of trees I want to dig up and move tomorrow! lol
Jean Rodammer I'm happy for you too! It's so amazing that you can do all that you are doing now. It gives me so much hope, although I know that I need to be realistic that I may not have as much success as you have had....but that is hard, because I don't like to think that way. I want to be positive!
Denise Manley via Jennifer Crossfield : Yes there are people who are getting up out of their wheelchairs and dancing to a new tune and a new beat in life! Praise God for all good things, no matter how small they seem.
Costa Rica Physio & School Music 015
www.youtube.com
*Karen Rogers- Day this time next week I'll have had my op and will probably be high on morphine lol xxx ♥
*Paul Dye Boycott the MS Society's. They are not looking for a cure. See comments below for further explanation.
Paul Dye
There are 2 groups. Those who live off MS and those who live with it The testing for chronic cerebrospinal venous insufficiency (CCSVI) poses no risk to patients and the treatment, balloon angioplasty, is wel...l known and low risk. It is n...ot experimental and has been used around the world sinc...e 1973. The only ...people who are denied testing and treatment for CCSVI venous malformations are those individuals who have been diagnosed with MS.
All these people who work for the MS Society will loose their jobs, immune system doctors loose their income, and Big Pharma will lose the research revenue. There is no reason to stop Radioligists from doing this work. Controvery about procedures happen all the time when new ways of doing things come along. Some doctors choose the old way, some learn how to do the new one."
Paul Dye FOR
EVERYONE who has had the procedure , we need to reiterate that it is
not a cure. People have to understand that they will not have the
procedure and get up and run or dance. People have to understand the
procedure is the beginning the rest is up to us , so Iam asking everyone
... to help me explain the benefits of Physical Therapy and/or rehab after
the procedure is done.
Paul Dye We are only revenue to these people. Hate the evil, but love the person. Pray for them because God knows and they need our prayers.
Pharmacy Choice - Pharmaceutical News - Half-yearly Report - August 18, 2010
www.pharmacychoice.com
*Yvonne Andersen FOR EVERYONE who has had the procedure , we need to reiterate that it is not a cure. People have to understand that they will not have the procedure and get up and run or dance. People have to understand the procedure is the beginning the rest is up to us , so Iam asking everyone... to help me explain the benefits of P...hysical Therapy and/or rehab after the procedure is done.
Yvonne Andersen Got an email from a new friend who I haven't met yet. She said, "Christopher gave me your name and I am very interested in your liberation experence. I would appreciate any information. My response, "only someone of fb would know who Christopher (with no last name) is. It's like talking about Elvis or Cher. Welcome to my fb Christine!
Yvonne Andersen via Leslie Scriver Agelakos : Friends, we have 1/10th of the signatures that we need to make the goal of 10,000. Please sign and share this request on your facebook.
The Liberation Treatment for MS Patients - The Petition Site
www.thepetitionsite.com
Help Liberate MS Patients! (1034 signatures on petition)
*Kathleen Lynch Alexandria to Cairo to Amsterdam - getting closer.
*Maryland USA MS CCSVI Group
I am officially out of spoons. I think I drew on some for tomorrow as well. I actually wanted to do a video, but feared it would be too negative. I am really mad that the Canadian government is acting like minions of Satan to my friends.
THEN THREE friends have to take Tysabri and its made them very sick (no, they do not have PML yet). :(