IVCC/CCSVI, vidéos et échos de murs de ce mardi.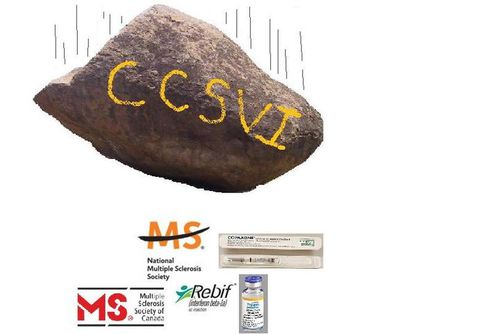 Pensez à la barre de traduction google!
Un montage avant/après de Brenda, bricolé par Denise Manley, toujours aussi active sur facebook!!! (I can jump!)
Avant OP:
Un mois après l'OP, des progrès réalisés, d'autres en attente:
Un SEPien s'exprime sur ce qu'il a appris. Le cortex peut être reprogrammé, l'insensibilité guérie.
Autre remix avant/après bricolé par Denise Manley:
Vidéo médicale sténise des carotides (artères, donc, et non veines, mais intéressant)
Vidéo d'une réunion de médecins au sujet de la CCSVI.
CCSVI Who pays for Multiple Sclerosis research? (redite)

Barbara Before and After CCSVI Video
*Echos de murs:
*Yvonne Andersen Just spent the past 9 hours painting. My legs and feet are killing me and it's time to get to bed. First, though I want to answer a question that someone sent to me in my email. This person asked me if I felt cured by having the Liberation Treatment. Answer below:

Yvonne Andersen
I am hesitant to say that I am cured from my MS. All the hype that the media has given this about it being a cure has certainly not helped us with our fight. I will say though that EVERY ONE of my symptoms that were associated with my neu...rological condition of MS are gone. Yes, GONE! I don't even think about the pain or fatigue anymore. I don't plan out my day thinking about what I "Can't" do. I don't take naps anymore and I am doing more that 10 times the amount of things that I used to do "Pre-Liberation" So, am I cured? Not sure, but the symptoms are for sure gone! :-) And, YES 100% I would do it all over again. :-)

*Denise Manley Dr. David Hubbard (a neurologist) was very inspiring at the CCSVI symposium as he is in the open letter. There are neurologist who are ashamed of other neurologists.

Denise Manley If you are interested in finding out more information and supporting CCSVI, please join this group!
CCSVI Alliance

*Michelle Walsh hang now Ginger says watch Wednesday night at 7pm.
Ginger MacQueen Wednesday night on Access TV at 7pm. Watch the Prime Time show

*The Multiple Sclerosis Resource Centre (MSRC) CCSVI testing at EHC!!! Urgent

CCSVI at EHC?EHC have just had a CCSVI scanning cancellation for tomorrow at 5pm in Glasgow. If you are on their waiting list and would like it, please ring them on 0800 027 6265 and ask for Kim.

*Post-Liberation Updates
This week's roster of
those going for angioplasty is... *drum roll please* Nasha Smith (going
to correct restenosis), Jaime Carvalho, Kevin Honneffer, Gloria
MacDonald, Shub Sabharwal and Dyan Summer. I think they all deserve a round of
applause!! I hope you all have a safe trip home!! :)

*Denise Graff Had a wonderful time in San Francisco! Great people throughout the trip! Especially enjoyed my host & hostess!!! :)
My inner geek was thrilled to check out the Google campus today!

*Judy Capstick-Keagan Tickets for Cecil's Benefit dance are on sale now for $5.00. If you are interested in purchasing a ticket, get in touch with me 544-1378 or they can also be purchased at Bianchini's Pizzeria in North Sydney, Northern Yacht Club, North Sydney, & the store in Westmount. The dance is Aug. 28th... at the Northern Yacht Clu......b in North Sydney. Music by: TC Audio Productions. Thanks for your support!
John Habkirk CCSVI testing at EHC!!! Urgent

CCSVI at EHC?EHC have just had a CCSVI scanning cancellation for tomorrow at 5pm in Glasgow. If you are on their waiting list and would like it, please ring them on 0800 027 6265 and ask for Kim.

**Maria Meszaros Dekleer I was just wondering if anyone knows which MS symptoms the jugular veins and azygos vein help alleviate once the proper flow of blood is restored

*Ccsvi Transverse Myelitis In my case, chronic fatigue, daily migraines, annoying spasms and pain. (Zamboni has written a paper on the effect of treating CCSVI on fatigue). I had other weird improvements such as improved breathing (like having a new pair of lungs). I have not heard this one mentioned among other liberated ones. Maybe is just me and my placebo effects :) Rox

*Maria Meszaros Dekleer Rox (cool name btw) I just mentioned that post angio i can breathe HUGE :)

*Vickie Rowe After my angioplasty everything has improved, bladder, balance, breathing, muscles getting stronger, heat tolerance, vision, it just feels better knowing blood flow is restored throughout my body! Even the littlest things are huge!

*Ccsvi Transverse Myelitis Hey Maria, I'm glad to know another person with improved breathing after the angio. I also feel that I can breathe huge, it is bizarre! It took me a while to get used to it. I would feel the oxygen getting into the nose all the way to the brain and down. Weird.