IVCC/CCSVI, vidéos et échos de murs de ce lundi.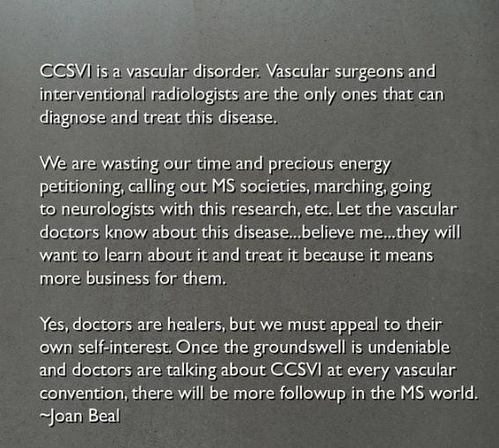 Barre google de traduction!
BILL AVANT:
APRES:
*Ginger MacQueen STOP the SUPER BUGS! Angio MS patients in Canada!!!

*Kathleen Lynch
attended the 1st gathering of "CCSVI in Seattle". Humbled, inspired and amazed by the unseen forces guiding this healing movement. Never underestimate the combination of love, mutual support, generous sharing of information, a common goal and Facebook. Mind-freakin-blowing.

*Patrick Farrell
Hey Guys ~ Barb can write! ~ Plateau my a$$!

*Anna Sousa patrick farrell has given us the best news today and i can imagine the better news to come from him. It is so great to have many friends that care for one another and to share many good successes. pls keep it up.

*Claudette Dextraze Ça y est! Je suis maintenant libérée!!!

*CCSVI in New Zealand This caught my eye on the NZ National MS Society FB site this morning;
Keith Black. Rosie I have always been interested in organisation structures and business models.
The unfolding of the data on Vascular involvement in MS has drawn my attention to the structure of the MS Societies and its connection to the business wor...ld.... The recent election of committee for the members of the Canadian MS Society has indicated that there are many factors at play in the theory of CCSVI and its treatment.
The two opinion pieces from Jelinek and Scalafani elude that there are factors that are influencing the assembly of tangible data. The Neurological specialty, the Pharmaceutical Industry, the MS advocacy Societies and some PwMS are collectively working as a unit and the Vascular specialty and some PWMS are also working as a unit.
There has been attempts to use science as a tool to bias the outcome of the debate around Vascular flow of blood from the brain and its causes and symptoms. This bias is detracting understanding and advancing benefits for PwMS and other diseases.
I personally have concerns about the information that influences the NZ National MS Society and the influence of the larger business base Societies such as the US. I would like to see NZ use the advantage of size and financial status to be independent of the negative aspects of the debate on Vascular involvement in MS.
For NZ National to have credibility in this age of Internet sharing of up to date information I believe it will have to be positive and neutral at the same time showing no bias from the outside world.
I have the impression that information is copied from the big financial players and does not have a NZ personality or prospective.
I would appreciate your input Rosie.
Afficher davantage

*Multiple Sclerosis Society of New Zealand

*Steve Garvie Anidotal......Unproven......plusebo....test....studies... Why not just get over yourself already and do this proven procedure.

Steve Garvie I think it is a very good idea to get imaged before you go to a foriegn country for a procedure , never know what will show up.There are people that can help direct you to where and how.

*Dawn Lazelli Has anyone been keeping a list/index of all the angioplasty success stories in newspapers?

*MIchael Midgley Diagnosed with M.S. in July 2003. Now diagnosed with CCSVI. Four stenosis,two in each jugular. Thank-you to False Creek Clinic and Dr. Zamboni

*Carol Schumacher I'm so proud of the CCSVI-MSketeers we raised over $15,000 for Dr Mike Dake's MS innovation fund, (in memory of Holly Shean) last night. I was so glad for the blue-vein-rope-lights that illuminated the magical evening. thank You Joan for inspiring us to get together and make something happen for CCSVI acceptance.

*CCSVI - MS 33 B.R.A.T.S. Barb Farrell can write!!!! :D

*CCSVI - MS 33 B.R.A.T.S. It was so great to meet so many wonderful people from this awesome MonSter family!!!

*Post-Liberation Updates For next week, I have only 2 names on my calendar, but I know there must be many more people than that. Please let me know your dates for treatement, and only the country you're going to be treated. Thank you!! *Smile...*

*Paul Dye This is the organization that lauded the ms society for all they do for us. They have a FB page and I posted asking them to help us fast track the treatment of CCSVI.
FasterCures -

*Denise Manley via Ginger MacQueen : Yeah! More people can ride their bike because of angioplasty! whooo whooo!

*Michelle Walsh via Dawn Lazelli : Saskatchewan Premier Brad Wall: "I'll tell you what the role of the healthcare system should be...if there is some hope for treatment or, down the road, a cure that we can, in a responsible way--taking our cue from the research community--answer some questions.
*"
Carol Schumacher Great letter, also mentions doctors concerned about ethics of denying screening.
dailygleaner.com - Multiple sclerosis patients are being denied relief - Breaking News, New Brunswic