IVCC/CCSVI, vidéos et échos de murs de ce dimanche.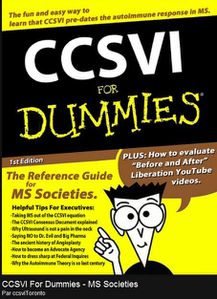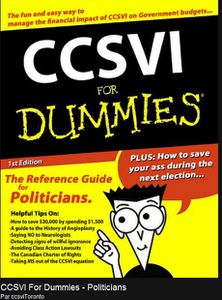 J'adore toutes ces versions de CCSVI for dummies lol! Barre google de traduction indispensable.
Reportage tv sur des SEPiennes parties se faire opérer au Mexique.

Vidéo d'un SEPien italien:
*Ginger MacQueen Via Misty Bombard Schuster:
There
is no way in the world this is Placebo baby!!! I cant wait to make my
after video and show off (I have been showing off a little - cant help
it!) !!! hehehe I love the dark side!!! I dont ever want to go back! : )
Ginger MacQueen HEY GINGER. IM LIBERATED!!!!!NO PAIN OMG NO PAIN. I CAN MOVE MY HANDS AND FEEL MY LEGS.STILL IN WHEELCHAIR BUT DR. SAYS WITH PHYSIO I CAN LEARN TO WALK AGAIN 3-6 MTHSIM A NEW PERSON.ALL THE BEST AD TALK SOONI
CREATED A FACEBOOK GROUP CALLED THE MERIDA EXPERIENCE. FOR PEOPLE WHO
WILL GO OR PEPLE WHO WENT. TO HELP OTH...ERS GET THE INFO THEY MAY NEED TO
MAKE THEIR TRIP BETTER.
Emily Hembroff Davis Lovin the dark side - lol
Ginger MacQueen And another!Via Emily Hembroff Davis: I am out of the procedure and back at the hotelsight is
great, balance is back, hand is back to normal, color in face, less
pressure in neck and apparently walking better but I think the weird
walking is the incision.
Ginger MacQueen Another friend joined me on the dark side today!
Via Misty Bombard Schuster:Procedure
all done, feeling AMAZING!!! Balance is back and vision is better and
its only been 3 hours!!!! UNBELIEVABLE!!!! Emily is the coolest chick
ever, I love her!!! Let the healing begin!!!! Ill update later xox
Ginger MacQueen Down With The Sickness!!
Brenda Raven anyone who has had the procedure, could you write a page or so and send to mark@marklane.ca so he can hand deliver our stories to the national health minister's conference in a few days. this is easy to do, but has to be sent ASAP as the conference is happening in a few days. thanks everyone! xoxo
Andrea Pittman Casti Reading this makes me so excited and yet nervous. I am trying to keep my expectactions low, but to have no more pain...my eye are tearing up as I write this.
Carla Ubell Or Adamarczuk I went to Merida, MX for Liberation :( NOT happy at all with my experience there!dessus de son dossier photos de l'expérience
Elyse Rabinowitz Newsholme Going next week. TUES NYC Yipee! I'll let u know if I'm even stenosed. All the neuros are nuts as its funny when I go now, they don't know what to do with me. I'm a medical mystery. 5 neuros, 5 different dx's. not really funny because no one knows as you said Tessa. They just don't know.
*Steve Garvie It is very maddening , one of the panell the government listened to was my exneurologist.Paul O'Conner.He made foolish statements like don't even get tested , it is no cure.Hey Paul look at the person you said was secondary progressive!I guess the pharma money must blind you.
*Amy Gaylord-Preston I'm looking for names of MSers from Ontario who have had angioplasty to open their veins.
There's someone in a position to help us, who wants to know. I've been trying to keep track, but not everyone posts their locations.
Amy Gaylord-Preston I'm looking for fairly short and to the point things to write on signs for the MS Liberation rally in Ottawa. Please add your ideas. The people holding the signs don't all have MS. They're family members and friends.
Amy Gaylord-Preston via Sandie Paluc : Fed up ???? Let the media know!
Email all the media at one time. Warning, This
will really annoy some of them."
http://www.canlaw.com/media/emailed.htm
www.canlaw.com
Amy Gaylord-Preston Here[s my friend, Kathy Francis and her...Big news! : IT IS OFFICIAL---I HAVE CCSVI-THANKS TO THE GOVERNMENT I CANNOT BE TREATED WITH ANGIOPLASTY,SOMETHING THAT IS DONE IN THIS COUNTRY ALL THE TIME.IF YOU HAD BLOCKED VEINS,WHAT WOULD YOU DO?
*Michelle Walsh If you have been ANGIOPLASTIED the NAtional Ministers Health Conference is in a few days and i know this is short notice but we really need you all to write a letter and send it here so Mark can hand deliver our letters so they can read these at the Conference send it to mark@marklane.ca ASAP Thanks everyone strength in numbers will make this happen.
*Michelle Walsh If you have MS and live in Saskatchewan and can come out to our CCSVI Info Session Sept 12th in Biggar. Just because our amazing Premeir says they will still go ahead this doesn't mean its happening anytime soon here in Canada so come find out more info how to get your name on lists to go abroad. See poster details bel...ow on my wall. Please help us raise more funds www.angioplastyforall.com
*Ccsvi Transverse Myelitis Speedy NHS...My neuro referred me for physiotherapy back in April. That was a month after I was treated for CCSVI and when we did not know yet whether that would help me to control the 200 spasms I was having per day. I was told today that I got an appointment for physio next week. That is five months after my neuro su...ggested this therapy. Unbelievable.What I'm going to tell now, sorry I no longer need the physio..
Ccsvi Transverse Myelitis The Hubbard foundation just received IRB approval for a multi site registry on CCSVI. Now anyone who thinks they may have head/neck vein flow issues (and gets a doctor's prescription) can be tested and treated, if the test is positive (they don't have to have an MS diagnosis). Great news!
***Tada, scoop, David ANza, musicien et chanteur qui a fait des clips pour financer Notre Sclérose, s'est fait opérer en Pologne!!! (voir clip sur ma page). Ses coms au-dessus de l'album photo de son OP: "voilà ce qu'a écrit David au dessus de son album photo "AMEDS"
"David Anza Après une Sclérose en Plaques depuis 3 ans, une équipe excellente ma soutenu pendant une semaine pour une Angioplastie. Des Gens Incroyables.
Résultat : Meilleure Vision, plus de spasme dans les jambes, moins de perte d'équilibre, plus de nausée.
Maintenant Repos..." "