IVCC/CCSVI, liens et articles de ce mardi.
*"
A&W fundraiser to benefit pair getting MS treatment. Al Lawr (left) and Rob Hamilton File photo
The community is stepping up to help pay for the expenses of two local men who are in India having an MS treatment not available in Canada.
On Thursday, (Aug. 26) the A&W Cruisin' for a Cause Day at the Georgetown restaurant will have a local twist. Chain-wide, $1 from every Teen Burger sold that day goes to the MS Society of Canada, but the owners of the Georgetown A&W— Bob, Penny and Ashley Monckton— have decided instead to donate all of the proceeds from every Teen Burger sold in their restaurant to Al Lawr and Rob Hamilton.
Lawr and Hamilton of Georgetown both have MS and are in India to have an experimental procedure that for some has dramatically improved their condition. The procedure costs about $15,000.
Both Lawr and Hamilton had the procedure Friday, came through it fine, are recuperating at their hotel and expected to be back home at the end of the month, said Lawr's wife Heather Henderson. It's too early yet to tell if the procedure has improved their MS symptoms.
"I saw the story in The Independent & Free Press and I thought it was a very brave undertaking for these men to go off to India on a wing and a prayer," said Bob Monckton. "I've lived in Halton Hills for 50 years and I've known both the Lawr and Hamilton families for many, many years. I just want to help."
Last year during the MS Cruising for a Cause Day, Georgetown A&W raised more than $440 with just $1 from every Teen Burger sold being donated. This year the Moncktons hope to raise much more.
Georgetown A&W is located at 282 Guelph St.
Over the weekend approximately 200 friends, relatives and co-workers of Lawr's attended a fundraiser where more than $10,000 was raised to go towards expenses for Lawr's procedure. Many others who didn't attend also made donations.
| | |
| --- | --- |
| linkWhat is relapsing multiple sclerosis | |
Multiple Sclerosis Questions and Answers
Relapsing Multiple Sclerosis or Relapsing/Remitting Multiple Sclerosis is one of the four forms of MS.
In this form of the disease, the patients have relapses (exacerbations). During these relapses new symptoms can appear and the patient's old symptoms can worsen or resurface. After the periods of relapses come periods of remission, during which the MS sufferer can partially or fully recover from the deficits he or she had during the relapses.
There is not pattern for relapses or remission periods. The relapses can be for some patients slow, gradual or almost instantaneous, and can last from a few days to a few months. When people are first diagnosed with Multiple Sclerosis, they are usually diagnosed with relapsing/remitting MS.

When it comes to the average age of diagnosis with this type of MS, most patients are in their twenties or thirties, but it is not uncommon for some to be diagnosed earlier or later. As a male/female ratio, there are twice as many women diagnosed with Relapsing/Remitting MS.

Relapsing/Remitting Multiple Sclerosis is perhaps one of the most disabling forms of MS, because patients can be in a very good shape one day and in the worst shape of their lives the next one. This is why, the importance of treatment cannot be underlined enough."
*"
"
*
*
*
*
*
*
*"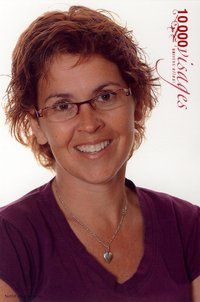 par Sonia Arsenault, lundi 23 août 2010, à 13:38
Mon intervention en Bulgarie.
Laissez-moi vous raconter mon expérience. Pour certains je me répète et pour d'autre ce sera à titre informatif.
Je devais me rendre à Varsovie en Pologne fin avril, début mai. Mais comme la Clinique AMEDS tardait à ouvrir, je me suis permise de faire des recherches plus approfondies sur d'autres cliniques qui offraient la même intervention. Mon choix s'est arrêté sur la clinique TOKUDA en Bulgarie, un hôpital privé Japonais avec de bonnes références. Je constate qu'ils pratiquent le CCSVI depuis plusieurs mois, les chirurgiens ont déjà libéré 400 Européens et commence à prendre les patients internationaux, depuis un certain temps. Je me sens en confiance et les tarifs sont les mêmes.
Le 7 juillet, je m'envole donc pour Sofia en Bulgarie. Les premiers jours, je me remets de mon décalage, je me familiarise avec l'endroit (langage, coutumes, etc.). Le 12 juillet, je suis admise à l'hôpital. Dès mon arrivée, vers 10h00, on me passe le «doppler». J'apprends que mes jugulaires sont sténosées (rapetissées) celle de gauche à 95% et l'autre à droite à 50%, ce qui laisse présager que l'azygot (dans l'estomac) doit l'être aussi. Vers 13h00, on vient me chercher pour m'amener en salle d'opération. Pendant 50 minutes, on me passe un « ballooning » (cathéter) par l'aine droite. Pendant l'intervention, je suis consciente et je peux voir sur le moniteur le trajet effectué par la sonde et je n'ai aucune douleur. Une fois l'intervention terminée, je ressens une grande chaleur dans mon corps et je me sens bien. On m'explique que c'est le sang qui circule normalement. Aussitôt arrivée dans ma chambre, je peux ouvrir ma main et lever mon bras droit, action que je ne faisais pas depuis plus d'un an et demi. Le lendemain, je repasse le «doppler». Tout est correct et je peux sortir du lit. Je reste 24 heures encore à l'hôpital pour que l'on vérifie si mon sang continue de bien circuler et que mon corps s'adapte bien.
C'est une intervention qui ne guérit pas la sclérose en plaque j'en suis consciente, mais elle nous aide à retrouver une partie de notre qualité de vie qui avait disparue. Maintenant, je dois faire de la physiothérapie pour travailler mes muscles et ma dextérité. Je dois réapprendre à me servir de mes bras et de mes jambes. Les améliorations de mes capacités physiques viennent et partent selon mon degré de fatigue, car il n'y a rien d'acquis dans l'entraînement. Par contre, depuis plus de un mois, j'ai plus de tonus, je suis moins fatiguée, je mange seule, je bois sans paille, je me tourne dans mon lit plus facilement et mes pieds sont moins enflés et ont repris une apparence normale. Ce sont de petites améliorations qui font une grande différence pour moi.
Je tiens à remercier tout le monde qui m'on aidée à vivre cette belle expérience soit par un don, une carte, des encouragements, du support ou une présence. Si j'ai eu tant de courage et de détermination c'est sûrement grâce à vous!"
*"
Phil Mitton is sitting on a couch, hunched over with a pillow between his chest and legs. He reaches over for a chair and pulls it closer to him.
Moving slowing and deliberately, he pulls himself off the couch and twists his body into the chair. He catches his breath for a couple of seconds.
The chair has wheels but he still struggles to roll it the 20 or so paces he has to cover to the other side of his cozy one-bedroom apartment. It takes him a couple of minutes.
Again, he stops to catch his breath and prepare for the next manoeuvre.
Steeling himself, he grabs the arms of his scooter, pulls himself up, twists his body again and plops down into the chair of the scooter. Pausing for a few seconds, he then reaches down to pull one leg up to the platform and then the other.
His mission accomplished, he takes a few moments to catch his breath yet again.
"Whew," he says. "That was a lot of work. It's always a lot of work. That's why I don't go out much. I can't walk and I tire really easy."
Mitton, 42, has multiple sclerosis, a chronic disease that attacks the brain and spinal cord that often leaves people disabled. It affects an estimated 75,000 Canada and symptoms include extreme fatigue, cold feet and loss of fine motor skills.
"I've had it all my life," Mitton says. "I can remember things bugging me even when I was five years old.
"In high school, I couldn't run the two blocks it would take me to get to school.
"People thought it was strange. I thought it was a little strange."
But he was always able to function and live an otherwise normal life until about 10 years or so ago, when the MS really gripped him. His condition deteriorate and it got to the point where he couldn't work and now can't walk.
The only time he gets out of his Dalhousie Street apartment is when he has enough strength to get on his scooter and go to the RBC to do some banking or go to a nearby store.
"Most of the time I'm here, watching television," he said. "I watch a lot of television."
He tried drug therapy but that just made him sick. He always felt like he had the flu and while he suffered from side effects, he didn't receive anything by way of benefit from the drugs.
"The MS just kept progressing. It was getting worse and I felt crappy all the time," he said. "So I stopped taking it."
The disease has taken its toll but there is a glimmer of hope in Mitton's life.
Dr. Paolo Zamboni, an Italian doctor, has come up with a theory that MS is the result of chronic cerebrospinal venous insufficiency or CCSSVI. The blood flow is disrupted and as a result the venous system isn't able to efficiently remove blood from the central nervous system. This causes increased pressure in the veins of the brain and spinal cord.
Zamboni also developed the controversial therapy, which addresses the problems caused by CCSVI by opening up the veins in the neck.
Mitton, like a lot of others who suffer from MS has been reading up on the procedure, called "liberation" therapy and like many others, he's trying to determine if it would work for him. He's taking the next big step next week.
"I'm going to Buffalo to get tested to see if I have this CCSVI," Mitton said. "It's pretty exciting because if I have it (CCSVI) then I can go for the treatment."
The testing, which includes an MRI, will take place over a couple of days and he will be accompanied by his mother Mary and other family members.
The treatment or procedure to correct the problem isn't available in Buffalo or in Canada or anywhere in North America. And it's also quite costly, usually well over $10,000 for the testing and the treatment.
People who want the treatment have to go to Europe, India or Costa Rica.
But Mitton is determined to find out if he has CCSVI, He desperately wants to receive the "liberation" therapy.
"I'd be a lot happier if it (liberation therapy) was available in North America but I'll go anywhere to get it.
"All I want is to be able to walk again."
*
*"
Download the PDF of this story.
As summer approached, Felicia Ianniello thought her most pressing health issue was her bleeding uterine fibroids. She was busy caring for her family and working long hours, and when she had a moment to recognize that she was feeling fatigued and vaguely unwell, she blamed her fibroids.
It was almost Memorial Day when Ms. Ianniello developed severe back pain that radiated upward from the small of her back. Her primary care physician told her she was anemic and might have pneumonia. He gave her a prescription and she went home to bed. After 48 hours she got up to visit the bathroom — and could not urinate. That's when she realized that something was terribly wrong.
Ms. Ianniello went immediately to Glen Cove Hospital, her community hospital and part of the North Shore-LIJ Health System. She underwent a computed tomography (CT) scan, and through a haze of pain she heard the technician say, "Don't move. Don't cough. I've got to get a doctor to look at this." The next thing she knew, she was in an ambulance, headed for North Shore University Hospital. The likely diagnosis? Deep vein thrombosis.
While clots vary in size, Ms. Ianniello's was massive — "larger than I've ever seen," said Craig Greben, MD, chief of vascular and interventional radiology at NSUH. "It extended from the veins in her groin all the way up the inferior vena cava [the large vein that receives blood from the pelvis, abdomen and lower extremities] to the threshold of her heart."
Treatment began immediately. "Not only was there the danger of a massive, potentially fatal pulmonary embolism, but the kidneys couldn't drain and were on the verge of shutting down," Dr. Greben said.
Pulling Out All the Stops
Over seven days, interventional radiologists, nephrologists, hematologists, gynecologists, internists and the staff of the intensive care unit (ICU) fought to save Ms. Ianniello, employing the most sophisticated pharmacologic and mechanical therapies. A special catheter called a Trellis was threaded through her groin directly into the clot and began to macerate it (chop it up). At the same time, tPA (tissue plasminogen activator, known as the "clot-busting" drug) was dripped into the clot. Interventional radiologists employed tiny balloons on the ends of catheters to open up Ms. Ianniello's clogged blood vessels, all while she hemorrhaged from her fibroids, necessitating almost continuous blood transfusion.
While Ms. Ianniello remembers long stretches of almost indescribable pain, she walked out of the hospital after about a month. Before she was discharged, Dr. Greben embolized her fibroids to stop the bleeding; the minimally invasive procedure, performed by interventional radiologists, essentially starves the tumors by cutting off their blood supply.
Halloween has passed, and Ms. Ianniello is picking up the pieces of her life. She's back at work, although not full time. "It's amazing, but not long ago I'd never even heard of deep vein thrombosis," she said. She is grateful both to the Glen Cove Emergency Department staff who recognized she needed the very highest level of care right away and to Dr. Greben and the North Shore University Hospital team, who gave her their best.
"I may have lost the summer," she said, "but I'm very fortunate not to have lost my life."
About DVT (Deep Vein Thrombosis)
In 2005, March was officially recognized as Deep Vein Thrombosis Awareness Month, in memory of NBC correspondent David Bloom. While covering the war in Iraq, the journalist died suddenly of a fatal embolism, a frequent complication of DVT. Despite the headlines regarding Mr. Bloom's passing, most people still have little or no awareness of this condition, which affects up to two million Americans a year and hospitalizes more than 600,000, according to Craig Greben, MD, chief of vascular and interventional radiology at North Shore University Hospital.
DVT is the formation of a clot in the deep venous system, usually in the leg. (Arteries carry oxygenated blood out to the extremities and veins carry deoxygenated blood back to the heart.) The clot, or thrombus, can produce symptoms such as pain, swelling, heat and redness. Report these to your physician if they persist. When a piece of the clot detaches from the vein it can become a life-threatening pulmonary embolism. If a clot is undetected, over several years the veins can become incompetent: Their valves stop working and the blood refluxes backward down the veins, eventually causing tissue breakdown.
DVT risk increases with age. Clotting abnormalities, cancer, obesity, heart failure, smoking, a sedentary lifestyle and trauma to the area can be contributing factors, according to Dr. Greben. Air travelers, particularly during long flights, should take the following precautions: Get up and walk the aisles from time to time, stay hydrated and skip the alcohol."
*
* Premier Darrell Dexter moved a baby step closer this week to committing the province to spending some money on controversial "liberation" therapy for multiple sclerosis.
*
*
*
*
*
*
Cruisin for CCSVI Awareness - August 26 2010
*
*
*
*
*