IVCC/CCSVI: liens et articles de ce dimanche.
Barre google de traduction indispensable!
*Nouveau magazine qui fait la promotion de notre cause au Québec: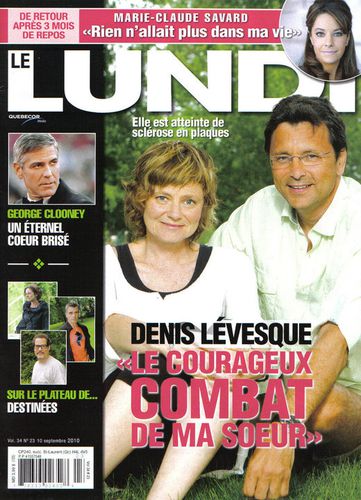 *
AMEDS CENTRUM - Varsovie - POLOGNE
*
*
*"
A St. Albert multiple sclerosis (MS) sufferer who spent $20,000 on a controversial experimental treatment is unhappy the federal government is delaying clinical trials.
Deer Ridge resident Connie Beaudette and her husband Ron travelled to Cabo San Lucas, Mexico in July so Connie could receive the "liberation treatment" from a private facility called Clinics of the Heart. The treatment is not available in Canada.
Connie, 54, has lived with MS for five years but started to deteriorate quickly last year, making the couple feel like they had no choice but to seek treatment outside Canada.
"It makes me mad that we have to go somewhere else because we're supposed to have the best medical system," Connie said. "We don't."
Federal health minister Leona Aglukkaq announced Wednesday that the government would not fund clinical trials into chronic cerebro-spinal venous insufficiency (CCSVI.) Aglukkaq wants to wait for the results of seven Canadian research projects that are looking into the efficacy of the so-called liberation treatment before proceeding with clinical trials.
Those research projects are expected to take two years.
Aglukkaq's announcement was an acceptance of recommendations made a day earlier by the Canadian Institutes of Health Research and the MS Society of Canada.
"I feel the most prudent course of action at this time is to accept the recommendation of the country's leading researchers," Aglukkaq told a news conference in Ottawa.
The treatment uses balloon angioplasty to inflate the veins in a patient's neck to improve blood flow. Italian researcher Dr. Paolo Zamboni made headlines with the treatment in November 2009.
Like many Canadians, the Beaudettes did their own research into Zamboni's treatment. They had no qualms about the safety of the procedure or the Mexico clinic where Connie got her treatment.
Connie was just the 11th patient to receive the treatment from the cardiovascular surgeon at the clinic but the couple said the clinic did a very thorough diagnostic and that the surgeon was very experienced with angioplasty.
"What did Connie have to lose?" Ron said. "She was losing her life anyway."
Before undergoing the procedure, Connie had trouble walking short distances and navigating stairs. She was very weak and had trouble with her balance. Her voice was weak and her head was starting to bob, Ron said. At the rate she was deteriorating, Connie would have been in a wheelchair within a few months, Ron said.
Following the two-and-a-half hour procedure, she showed marked improvement immediately, they said.
"I was on sleeping pills for four years. Now I sleep without them," Connie said. "I was bobbing my head and now I'm not. I have energy-plus. It's just great."
Ron said he can't accept that Canadian doctors can pump patients full of MS drugs, sometimes with limited success, but not perform this new procedure.
"It's devastating to see someone you love deteriorate so fast," he said. "Then this procedure comes up and it's like the light at the end of the tunnel."
He and Connie share the opinion that the medical establishment in Canada is moving slowly because MS drugs are profitable for the pharmaceutical industry. Even the MS Society is entrenched in established methods and resistant to change, they said.
"Maybe it's not the cure but it could help change people's lives," Ron said.
Some doctors feel that people who report positive results from liberation treatment could be experiencing a placebo effect but the Beaudettes disagree because Connie's results have endured since July 12, when she had the procedure.
In June, the Canadian MS society and its U.S. counterpart awarded $2.4 million to diagnostic studies aimed at testing Zamboni's theory that MS is related to restricted blood flow. The studies will use ultrasound, MRI or catheters with dye to check for abnormal blood flow in the veins of people with MS and healthy controls.
MS Society of Canada president Yves Savoie said Wednesday his organization would monitor the results of the studies and recommend clinical trials if they suggest a link between occluded veins and MS.
"Any procedure where you inject a catheter in a vein, where you compress the vein, where you risk damage to the internal sheath of the vein, is not without risk," Savoie said.
Several Canadian provinces have called for clinical trials. Alberta is assembling a committee to review emerging clinical data on the liberation treatment. The committee will include clinicians and representatives from the MS Society and various government departments, but won't speak to patients who've received the treatment abroad, said Alberta Health and Wellness spokesman John Tuckwell."
*
*
*
*
*
*
*Photo de Tarah Virgil, voyage ccsvi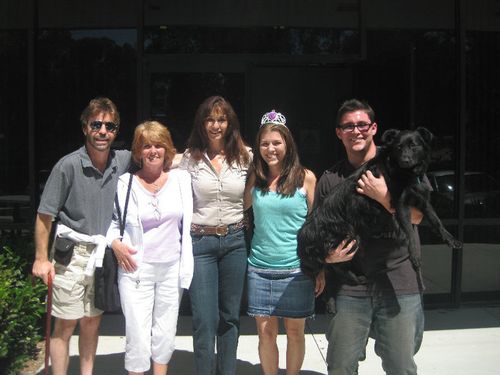 *
*
*
*
*
*
*
*
*
*
*
Briefing for the Public Petitions Committee
CCSVI at UBC MS Clinic - Information and Support Scotland goes down the same road as Canada. Here's their report from their CIHR equivalent (SPICe). FYI, this is what the Scottish government website says about the agency: "Research briefings are written by research specialists in the Scottish Parliament Information Centre (SPICe). SPICe research briefings are for u

...

se by MSPs in support of parliamentary business in the Committees and in the Chamber and are always impartial." And here's the brief:
TRATTAMENTO CON PALLONCINO DELLA CCSVI