IVCC/CCSVI, articles et liens de ce dimanche.
Barre google de traduction indispensable! clic:

*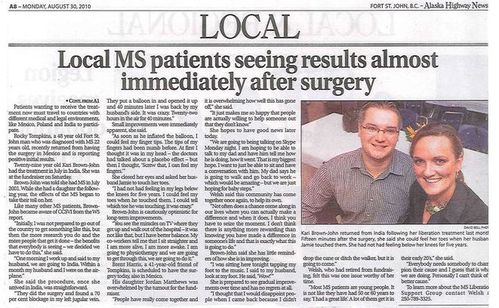 par Paul Dye, samedi 30 octobre 2010, à 20:16
Tell Your Senator to Make MS Data a Priority
Take Action!
We need your help! Congress will be back in session in just a couple weeks and we need you to email your Senator to ensure S.1273 is passed before this Congressional cycle ends. Just before breaking for recess, the House of Representatives passed the companion bill, H.R. 1362, the National Neurological Diseases Surveillance System Act. MS activists have helped this important legislation move further than it ever has before. We are incredibly close to the finish line and cannot stop now.
Your Senator is on the key Health, Education, Labor, and Pensions (HELP) Committee and is in a pivotal position to continue advancing S. 1273. With limited time to finish critical work, your Senator must hear from you about how vital S. 1273 is to people living with MS. Ask your Senator to support S. 1273 to establish a surveillance system for MS today!
Currently, a national coordinated system to collect the number and characteristics of people living with MS in the United States does not exist. The development of a surveillance system will address this gap by gathering all existing data on the incidence and prevalence of MS in one location. As a result, this system could help uncover and inform promising areas of MS research such as: genetic and environmental risk factors, and support the discovery of disease therapies, treatments, and one day—a cure.
There is not much time left in this Congressional session, so action is needed now. Click here to take action and email your Senator today about the importance of establishing a surveillance system to gather important data and help us move closer to a world free of MS.
"
*
*
Two local women, Tarah Virgil and Danielle Rheaume, found relief from many of their MS symptoms after "the Liberation
*"
The Federal government won't be funding trials for the Liberation treatment. The treatment opens blocked veins in patients suffering with M.S. We've heard that the treatment works, in fact, some say its a miracle. Does it bother you that the government isn't taking this seriously? Guests: Dr. Sandy Macdonald, cardiovascular surgeon, and conservative MP, Larry Miller
This was originally broadcast early September 2010, just after the CIHR / MS Society shut down any chance of federal funding for a CCSVI Clinical Trial.
It's worth listening to again.
WaYnE
570NEWS Link:
"
*
Guelph Mercury
What do you think about the happenings around CCSVI and liberation treatment?
*